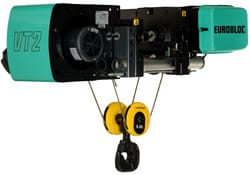 Eurobloc VT
Electric wire rope hoists for loads of 800 to 80,000 kg
VERLINDE has always been in the vanguard for innovative ideas and designs for lifting units with hooks (over 70 patents filed in France and world-wide).
The new EUROBLOC VT electric wire rope hoist has been designed in this resolutely "avant garde" spirit – 13 patents have been approved from this design alone.
2-speed hoisting motor (ratio 1-6) with bimetal sensors. 60 % operating factor.
Maintenance-free DC disc brake.
4-position limit switch (up, down, high position deceleration, reversed phase protection).
Load limiter.
Monitor MT2, supervisor unit for the hoist.
3 to 20 m/min variable speed travelling motor.
Electrical cabinet with low voltage transformer and switchgear.
Safety on/off.
Standard 380V/400V/415V/50Hz, 440V/460V/60Hz power supply.
IP55 / Class F protection system for motors.
Tropicalised for travelling and lifting.
Cable guide for difficult environments.
Time counter.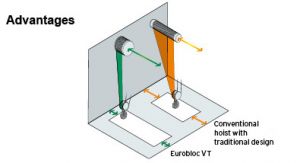 Higher travelling speeds.
Radio remote control.
Load limiter with 2 or 3 steps.
Special supply voltage.
Load display.
Explosion proof hoist.