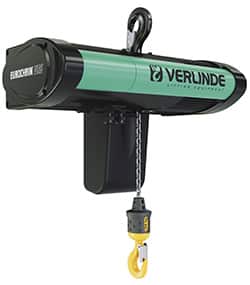 Eurochain Vario
Electric chain hoist stepless lifting speed
Productivity
Continuous speed control offers starting without jerking, rapid accelerations and gentler stopping, to optimize load-handling operations. ESR system allow adaptation of deceleration ramp and offer faster lifting speed with lighter load (up to 200%).
Lifetime
Continuous speed control reduces mechanical impacts thanks to gradual starting and gentler stopping. The lower numbers and extents of impacts on the components of the bridge or structure considerably lengthen the service life of the frame.
Savings
Continuous speed control enables electric braking to be used as priority when decelerating before applying the mechanical brake. Electric braking reduces brake wear since the mechanical brake is used only as holding brake (parking brake).
Stepless hoisting speed through inverter control.
Adjustable acceleration/deceleration ramp time.
EP, MS or analog control modes with load adaptive ESR functionality.
Brake control with supervision.
Over speed supervision.
Clutch slippage supervision.
Electronic overload prevention through load sensor.
Programmable hoisting limits set by pendant (available at a later phase).
Shock load control.
Hour counter, start counter, SWP calculation.
Active polygon damping, 50% reduction (only for Europe).
Power supply 380 to 480V/3Ph/50Hz 60 Hz.
Low voltage control 48 V (115 or 230 as option).
Variable travelling speed on electric trolley.